Furukawa Electric Academy
Develop your technical skills with training focused on telecommunications concepts and Furukawa solutions.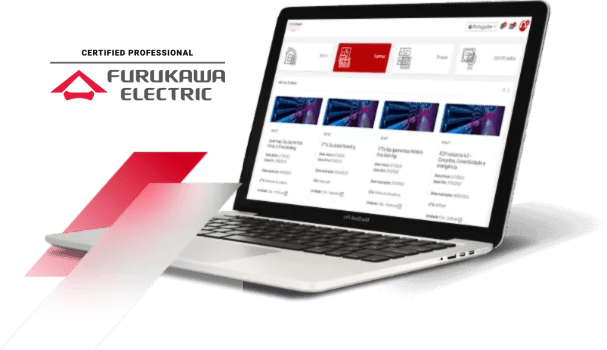 As a Furukawa Certified Professional, you receive complete training
A professional training catalog that seeks to serve all profiles, from the installation technician to the team manager, qualifying them on conceptual telecommunications training and Furukawa Solutions. In addition, our trainings offer credits and BICSI certification, which doubles as a seal indicating the high level of technical knowledge provided to the professional.
Laserway Equipment Training Provisioning Module
The objective of this training is to empower professionals to install and configure the Laserway solution.
Laserway Solution Planning
The training covers Laserway technology concepts, the components used in project development and an overview of equipment.
FTTX Equipment Training Provisioning Module
In order to explain and exemplify the concepts of GPON active technology, its configuration, and main operating characteristics, the FTTx Provisioning training will assist network administrators in configuring their active equipment for proper operation and maintenance.
The training addresses concepts of FTTx technology and the components used in project design.
The objective of this training is to enable the professional to understand, specify and design the infrastructure of a Data Center based on Furukawa solutions.
Sign up for our Furukawa Electric trainings at no cost:

Furukawa's Online Education System (SEO) is a platform designed to offer telecommunications training, ranging from structured cabling and fiber optic networks to equipment configuration.
SEO offers updated content, interactive videos, live classes, access to certifications, and helps train professionals to ensure the quality and efficiency of the projects and services provided.